Hilton Head Trial Lawyers
Committed to Protecting Your Rights
Whether you have suffered a life-changing injury or have been charged with a crime, we at Bauer & Metro, P.C. know that there are few things in life more difficult than navigating the legal process. When your future is at stake, you need a team that will fight for you, one that you can trust to protect your best interests and advocate for your rights. You need an attorney by your side who knows the law and has the resources, experience, and skills to pursue the best possible outcome on your behalf.
For decades, we have fought on behalf of people and families throughout the South Carolina Lowcountry. Our team of Hilton Head trial lawyers provides highly personalized and compassionate legal representation, never losing sight of the fact that our clients are real people whose lives have been forever changed. Our goal is to not only protect you and your rights but also to guide you through the legal process so that you can feel confident moving forward.
Continue reading to learn more about our Hilton Head office and how we can help you with your legal needs, or give us a call today at (843) 920-2844 for a free consultation. You can also reach us online using our secure contact form. "They work very efficiently to settle your case."

Brandon S.
At Bauer & Metro, P.C., we proudly represent clients in an array of civil and criminal matters.
Our areas of practice include:
Personal Injury: We have extensive experience handling all types of personal injury cases, including those involving catastrophic bodily injury and wrongful death. Our areas of focus include motor vehicle accidents, bicycle accidents, pedestrian accidents, boating accidents, dog bites, dangerous drugs, premises liability, slips and falls, hotel injuries, and truck accidents.
Criminal Defense: Our defense attorneys provide aggressive representation on behalf of those accused of all types of criminal offenses. Within our criminal defense practice, we focus on cases involving driving under the influence of alcohol/drugs (DUI), drug crimes, felonies, violent crimes, theft, and more.
Medical Malpractice: We are well-versed in medical malpractice and negligence, routinely representing clients in complex cases involving birth injuries, misdiagnosis, delayed diagnosis, failure to diagnose, anesthesia errors, medication mistakes, failure to diagnose cancer, failure to diagnose heart attack or stroke, substandard treatment, and more.
Nursing Home Abuse: Our attorneys stand up for the rights of our community's most vulnerable individuals, including seniors who have been subjected to abhorrent treatment by professional caregivers and nursing home staff. We handle nursing home abuse cases involving bedsores, falls, medication errors, improper treatment, physical abuse, mental/psychological abuse, financial mistreatment, and more.
Military Housing: When private military housing companies fail to provide adequate housing conditions for military servicemembers and their families, our team fights to hold them accountable. We handle military housing claims involving substandard living conditions, failure to promptly repair reported issues, mold and other forms of toxic exposure, lack of adequate heating or cooling, dangerous conditions, home defects, and more.
Defamation: If you have been harmed by someone's words, whether through libel or slander, our firm can help. At our Hilton Head office, we represent clients in all types of defamation cases. Our goal is to help you seek the fair compensation you are owed for the damage caused to your reputation, your livelihood, and your wellbeing.
No matter how complex your case may be, our Hilton Head trial attorneys are here to provide the answers and information you need to move forward. We are ready to serve as your advocate and guide throughout the legal process, working to secure the best possible outcome as we fight to protect your rights. Legal Expertise

Bauer & Metro are recognized in the legal community for their knowledge in their specialized fields.

Educators

As frequent lecturers for legal education, Bauer & Metro are dedicated to educating both lawyers and judges. 

Local

Local favorite & locally focused, Bauer & Metro are proud to serve the community in which they live.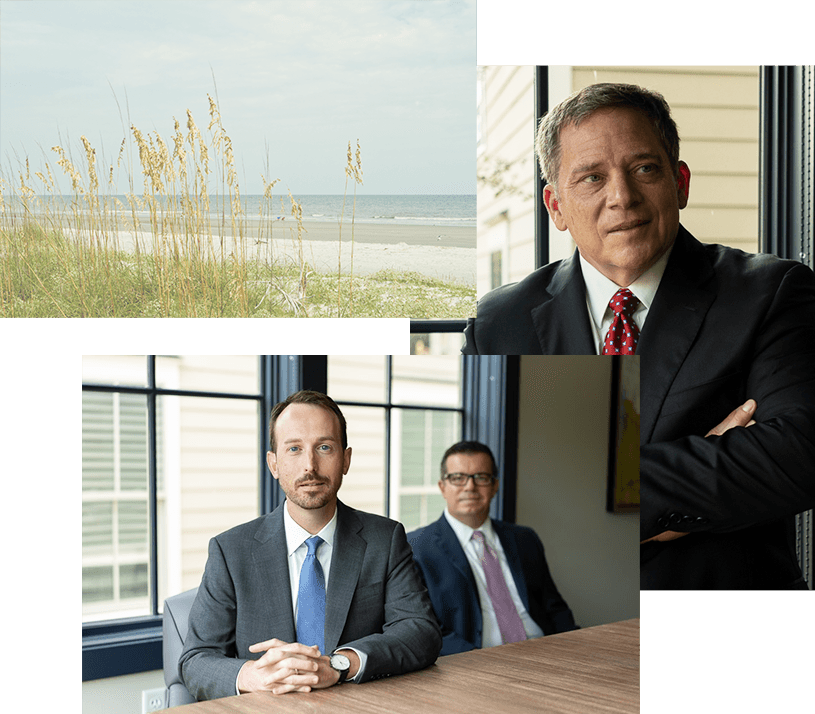 Who We Are
We are a team of renowned trial lawyers with extensive experience and diverse backgrounds in the legal field. Founded by Attorneys Rob Metro and Sam Bauer, our firm has a long history of serving clients in an array of complex legal matters. We are proud to have deep roots right here in the local community; many of our clients are our neighbors and friends, and we treat them like we would our own family.
When you choose the team at Bauer & Metro, P.C., you can expect to receive personal attention and direct, one-on-one communication from your attorney throughout the entire process. We are always available to answer your questions and address your concerns, 24 hours a day, 7 days a week. We understand just how stressful this time is in your life, which is why we make it our mission to be a source of consistent, reliable guidance and counsel. No matter how complicated your situation may be, you can count on us to be there for you, every step of the way.
For a free initial consultation, call (843) 920-2844 or contact us online today. Accepting The Most Challenging Cases
$10,000,000 Toxic Contamination

$5,000,000 Abuse in School

$3,000,000 Birth Injury

$2,000,000 Truck Accident

$1,000,000 Personal Injury