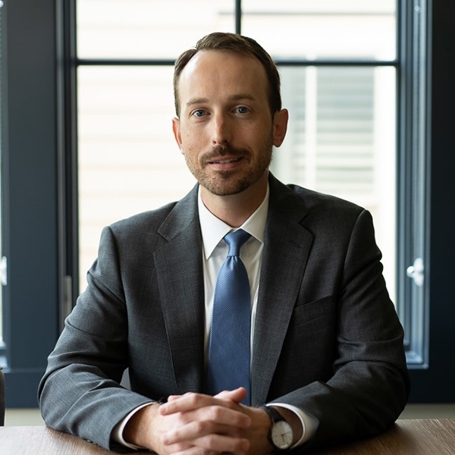 Dustin Whetsel Attorney
Bio
Dustin earned a Bachelor of Arts from Presbyterian College in 2006 and a Doctor of Jurisprudence from Mississippi College in 2009.  He was commissioned a second lieutenant in the U.S. Marine Corps in the summer of 2007 upon graduation from Officer Candidates School.
​After passing the South Carolina bar in October 2009, Dustin received orders to Judge Advocate Division at the Pentagon while waiting to attend The Basic School (TBS).  After graduating from TBS in November 2010, he reported to Marine Corps Air Station (MCAS) Beaufort, South Carolina.  After reporting to MCAS Beaufort, Dustin attended and graduated from Naval Justice School and then returned to MCAS Beaufort in April 2011.
Dustin served as the Civil Law/Review Officer, Military Justice Officer, and Deputy Staff Judge Advocate during his tour at MCAS Beaufort.
In December 2013 Dustin was ordered to Marine Corps Recruit Depot (MCRD) Parris Island to serve as the first Victims' Legal Counsel there. He was assigned to Headquarters and Service Battalion.  This was a Congressionally mandated program and he was the first Marine Judge Advocate to hold that position at Parris Island. 
​In July 2015, while on terminal leave with the U.S. Marine Corps, Dustin accepted a position with the 14th Circuit Solicitor's office as an assistant solicitor.  He worked at the Solicitor's office for the next 5 and a half years prosecuting cases primarily in Beaufort and Jasper counties.  In August 2019 he was promoted to the Career Criminal Unit.  While at the Solicitor's office, Dustin tried multiple cases to verdict ranging from drug possession to murder. 
​In January 2021, Dustin accepted a position with the 14th Circuit Public Defender's office.  He primarily represented clients in Jasper and Hampton counties. 
Civil Law/Review Officer

MCAS Beaufort

2011 - 2011

Military Justice Officer

MCAS Beaufort

2011 - 2012

Deputy Staff Judge Advocate

MCAS Beaufort

2012 - 2013

Victims' Legal Counsel

MCAS Beaufort

2013 - 2015

Assistant Solicitor

14th Circuit Solicitor's Office

2015 - 2020

Career Criminal Unit

14th Circuit Solicitor's Office

2019 - 2020

Public Defender

14th Circuit Public Defender's Office

2021 - 2021
Education
J.D. Mississippi College

- Graduate School

Presbyterian College Presbyterian College

- Undergraduate School